Home > News > Natspec Highlights June 2021
Welcome to another edition of the Natspec Highlights. It's almost (but not quite!) the end of the academic year, but colleges are still hard at work. Among this month's news we have a new student success story for you, news of new partnerships and enterprises, and some fabulous student performances.
It's also been great to see our Natspec Award trophies, made by students at Portland College, begin to arrive. Here's Bridge College's QT Robot accepting it on their behalf!
Contents
---
Teachers from Natspec Member Colleges honoured at teaching awards
Speaking of awards, two Natspec Colleges have had their staff recognised in the Pearson National Teaching Awards.
The Pearson National Teaching Awards is an annual celebration of excellence in education, founded in 1998 by Lord Puttnam to recognise the life-changing impact an inspirational teacher can have on the lives of the young people they work with. This year marks its 22nd year of celebrating, award-winning teachers, teaching assistants, headteachers and lecturers across the UK. The awards were announced on 'Thank a Teacher Day'.
The Deaf Academy
Matt Jenkins and Jo Fison, who are teachers at the Deaf Academy, have won silver in the Pearson National Teaching awards in the Lockdown Hero Award for Learner and Community Support.
Selected from thousands of nominations, Matt and Jo were honoured as two of 102 Pearson National Teaching Silver Award winners across the country for their outstanding commitment to changing the lives of the children they work with every day.
They were nominated for the award by the Deaf Academy. Matt's nomination read:
"Matt Jenkins is an enthusiastic teacher with a wealth of innovative ideas, applying solutions to difficulties commonly faced by deaf learners and able to 'think out of the box' to ensure solutions are workable and meaningful. Driven by a desire to ensure that deaf learners had equal access to information and learning around COVID, Matt developed the popular 'Ask Deaf teachers' YouTube channel, developing online resources in sign language that were fun, engaging and accessible to all deaf children and young people. This was central to the development and delivery of the school's Online Academy to draw out potential in students and ensure full engagement to learning while recognising the challenges faced by deaf students in accessing learning online. "
And Jo's stated:
"Jo Fison is an experienced teacher who ensured that online platforms were sign language friendly, able to stream sign language efficiently and clearly, and considered well-being at the heart of all delivery. She ensured online platforms were accessible to all, even those who had not grown up within the digital age, giving up much of her time, to lead, to hand-hold and to cajole staff in believing that teaching remotely was possible. As a result, students who are deaf with additional needs were able to continue their learning throughout lockdown, maintain standards and return to the Academy post lockdown."
Deaf Academy Principal, Sylvan Dewing said: "Lockdown has been a very difficult time across the country, in particular for young people with additional needs and their families. A fantastic achievement for Jo and Matt and wonderful recognition for everyone who worked here during that difficult time. They are all heroes!"
Derwen College
Derwen College teacher Steve Evans has also been honoured as one of 102 Pearson National Teaching Silver Award winners. Steve Evans was honoured with a Silver Award in The Award for Excellence in Special Needs Education for his outstanding commitment to changing the lives of the young people he works with every day.
Derwen College Performing Art and Work Skills lead Jessie Vaughan has been recognised with a Bronze Award in the Digital Innovator of the Year category.
Steve has a determination to bring out the best in every student. His students have a wide variety of complex special educational needs and disabilities, and some of them arrive at College believing that sport just isn't for them. As Sports & Leisure co-ordinator, he recognises the physical and mental benefits of exercise, encouraging teamwork, social skills and fun.
By partnering with community and national sports organisations, Steve has enabled a wide and inclusive range of opportunities for the college's residential and day students. His passion and drive has been instrumental in bringing the Duke of Edinburgh's Awards to Derwen College, giving students the opportunity, motivation and self-belief to get involved with these challenging awards, encouraging them to strive and attain goals beyond their expectations.
Steve Evans has now been shortlisted to win one of just 15 Gold Awards later in the year, in a programme which will be broadcast on the BBC.
Jessie was honoured in the Digital Innovator of the Year category for her commitment to embracing technology to engage with students at home and at college.
Jessie used online meetings, social media and videos during lockdown, thinking creatively to make sure each and every student felt a part of college even if they were based miles away.
Derwen College Principal & CEO Meryl Green said: "We are proud and delighted that Steve and Jessie's amazing work has been recognised in this way.  Despite the incredible outcomes that their students achieve they remain modest and firmly grounded. For both, students are always centre stage, and going 'over and above' is just the norm. At Derwen College, we believe that young people with SEND deserve the best possible life chances and are proud to have staff who do everything in their power to achieve this. Both Jessie and Steve really are an inspiration to students and the colleagues working alongside them."
---
Hereward students perform for City of Culture
The Hereward College student band – Pulse – made up of BTEC Level 2 Music students performed four original songs for staff and students of Hereward. The band also performed a specially written song about Coventry as the city celebrates being the city of culture.
The students received standing ovations from the audience after their set.
The idea for the performance came from Shania, a music student, who wanted to be able to perform for the rest of the college to celebrate the end of the year. Shania worked with various sections of the college, including the marketing, technical and curriculum teams to put on the event alongside rehearsing with the band.
This included looking at social media plans, planning photo shoots for the band members, requesting technical equipment and more.
The performance was a great way to round off a very different end-of-term for the college and everyone who attended enjoyed themselves. The band represented themselves and the college very well and we look forward to their next performance!
---
Sudio's Story: Residential Specialist College is a perfect fit
We have a new student story up on the blog!
Sudio Suodi was a residential pupil at Doncaster School for the Deaf before starting her college journey at Communication Specialist College Doncaster (CSCD).
The student, who has been studying at CSCD for one and a half years, chose the residential college in Doncaster she knew that she would have lots of support from staff who are deaf aware and use British Sign Language.
Sudio said: "I like the size of this college. Large colleges can feel overwhelming and CSCD is the perfect size for me.
"The residential setting is great, and I was used to living onsite from being a school residential pupil."
Read more about Sudio and why Communication Specialist College Doncaster has been the perfect fit here.
---
Former Derwen College student named in Queen's Birthday Honours
A former Derwen College student has been awarded a British Empire Medal, and a slot on ITV's This Morning programme presented by hosts Phillip Schofield and Holly Willoughby.
James Beardwell, who has autism, was named as part of the Queen's Birthday Honours List for his hard work keeping customers safe at his local Sainbury's supermarket during the pandemic.
James, who works at Sainsbury's in Chelmsford, was a student at the specialist further education college, in Gobowen, near Oswestry. James followed a Retail pathway at the college for young adults with special educational needs and/or disabilities (SEND).
James's job at Sainsbury's involves sanitising trolleys at his local store. He was nominated by colleagues for keeping shoppers safe and making them smile.
The award led to a spot on ITV's This Morning show. James was invited to speak to television presenters Phillip Schofield and Holly Willoughby, who presented the dedicated football fan with a goodie bag filled with England-themed gifts.
Derwen College employee Janet Harris remembers James from his time at Derwen College.
Janet said: "James followed a Retail pathway. I remember him as pleasant, well-mannered and polite, and always well presented. He was hard working and punctual, a real asset to any employer.
"He enjoyed a work experience placement at Iceland in Oswestry, represented college at water polo and football and was an ardent football supporter."
Simon Roberts, CEO at Sainsbury's, said that the supermarket was delighted to congratulate James.
"On behalf of everyone at Sainsbury's, I would like to say a huge congratulations for being awarded the British Empire Medal (BEM) in the Queen's Birthday Honours 2021.
"James, who is autistic and experiences anxiety, initially found it difficult to adjust to the pandemic. However, he was committed to playing his part in feeding the nation and continued to go above and beyond for our customers."
Derwen College Principal & CEO Meryl Green said:
"I remember James very well and everyone here at Derwen College is incredibly proud of his achievements. We work hard to support students to reach their aspirations towards employment and maximum independence and love to hear many success stories from former students. However, I think this is the first time that one of our students has been honoured by the Queen!"
"Well done to James, and to all our students and former students who have excelled themselves making us proud during these challenging times."
---
Langdon College students adapt to sell crafts nationwide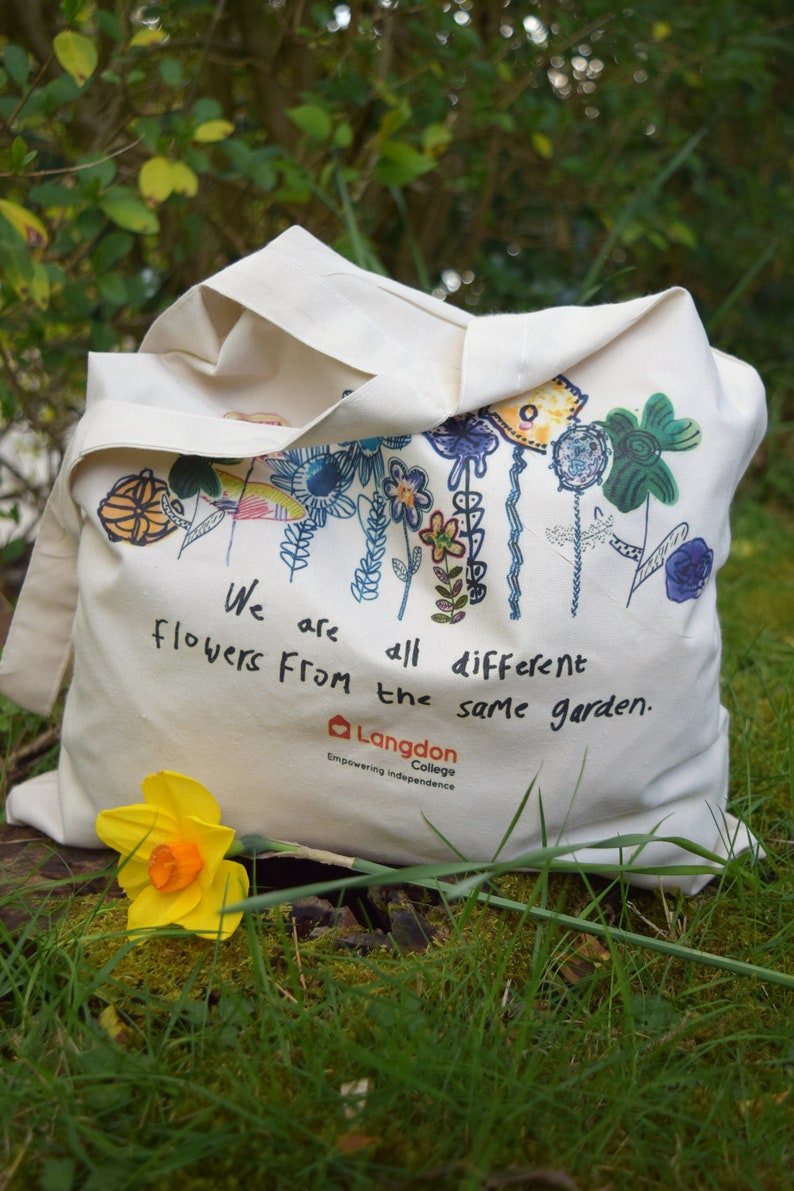 This month Langdon College have launched Langdon College Prints on Etsy marketplace. This is an online shopping platform where they will be selling our enterprise products UK wide. Previously learners were making and selling items at local stalls/events but sadly due Covid this all had to stop. This new way of working will provide learners with a work placement whilst providing opportunity to develop a higher level of skills in ICT and business. All the equipment used to create the products has been funded by the Karten Network.
Learners, at all levels, are able to access and partake in the running of the business and develop employability skills such as customer service, stock management, marketing, design, reprographics, administration with Microsoft office and delivery processing.
---
Learner Voice at Sense College Loughborough
This year, Learner Voice at Sense College Loughborough has taken the form of representatives for each Pathway and area of the College. In their first meeting in March, the students elected to call themselves College Ambassadors. Since then, a lot has happened and the Ambassadors have taken on a variety of roles:
Surveys and Learner Feedback
The College Ambassadors did a small survey of students in the College to find out about their experiences of home working during lockdown as well as the experiences of students who continued to attend College. This information was placed into a bar chart and sent to the College Management Team and to the Governors. All students were also asked about what questions, ideas and suggestions they had to give to a meeting with the College Management Team and Governors. There were some great ideas and questions from the students.
Question Time
All College Ambassadors were invited to take part in a Question Time session with the College Management Team as well as with the Governors. The Ambassadors shared their questions and suggestions during the meetings and shared answers and actions from the meetings with the students in their Pathways. Suggestions included having a card reader instead of paying with cash – Ambassadors now have the action of finding out how many students have a debit card and how many prefer to pay in cash.
Sense College are now also working on incorporating learner voice into all activities, including sessions, interviews with new staff, meeting and greeting visitors and prospective students and creating a film about the importance of learner voice.
Meetings
The College Ambassadors and other students recently took part in the Natspec Learner Voice Parliament and it was a positive experience to meet other student reps from different colleges around the country. They have also attended and given feedback to the Health and Safety Committee, Sustainability Committee, Equality and Diversity Committee and Governors.
Plan for next year
Next year Sense College want to continue with all the activities we carried out this year, but develop those further. For example they would like College Ambassadors to run Green awareness events, take part in the College's self-assessment report, and hold Learner Voice events for current and prospective students.
---
Landmarks Specialist College partner with Greene King
Landmarks Specialist College has partnered with Greene King to provide 16- to 24-year-olds with learning difficulties and disabilities the opportunity to develop employment and life skills as they enter the hospitality industry.
As part of its commitment to improve social mobility, Greene King will support young people with learning challenges to overcome barriers to employment through supported internships with Landmarks.
The first programme, which began earlier this month in South Yorkshire and Nottinghamshire, will give nine learners work experience in Greene King pubs.
Landmarks Specialist College will also support with a job coach until the individual can work independently.
"Improving social mobility and creating the best opportunities in hospitality for young people from all backgrounds is really important to us," says Graham Briggs, head of apprenticeships and employability programmes at Greene King.
"Our partnership with Landmarks Specialist College will help provide valuable work experience to young people with learning difficulties, with a view to securing permanent employment with us.
"Supported Internships are the latest addition to our other established programmes including apprenticeships, The Prince's Trust, Ex-Offenders and Kickstart – all of which create employment opportunities and support the career development of our people."
Supported Internships have proven successful for participants, with 88% of Landmarks Specialist College Interns sustaining employment in the past three years.
Greene King is the first pub company to partner with Landmarks Specialist College offering Supported Internships for young people following a Wayfinder programme.
---
Bridge College participates in 'The Making of Us'
The Turnpike in Leigh launched, a development programme for artists to engage and collaborate with organisations in Wigan, Stockport and Salford. The project is made possible with funding from the Greater Manchester Combined Authority.
Through this project, artists have been working with young people that attend Bridge college, to initiate mutual learning opportunities and new ways of collaborating.
A group of Bridge College students were incredibly pleased to take part in The Making of us. Every Wednesday morning, the students were joined by artists Josie and Chris.
Chris and Josie started the sessions by doing some 'getting to know you' activities. They then started to make masks with the students in the session. The idea came from the learners' interest in things like, wrestling, impersonation, and superheroes. They also thought it overlapped nicely with the student's recent project on Andy Warhol, whose glasses, wig, and makeup were a mask in their own right.
Josie is a trained dancer, and she has incorporated lots of activities which involve thinking about how we move. For example, balancing sticks on different parts of the body and moving quickly and slowly.
Student Connor said, "I'm enjoying taking part in the art project and I like Josie and Chris."
Student Aqib said, his favourite part of the project so far was "making the masks."
It has been fantastic to see how the project evolved as the students and artists work together.
The Making of Us is providing a supportive opportunity for artists to develop practices that respond to current challenges such as COVID-19 and Bridge College is extremely pleased to be taking part in this project.
Elizabeth, Art Tutor says, "Our students have had a fantastic opportunity to try out new things including a green screen to make films and then go on to edit them. They've also absolutely thrived working with the artists and exploring new ideas including movement art. It was fantastic to see how the artists tapped into the students interests which kept them engaged and brought the best out of them."
---
MP praises Homefield College's latest enterprise.
Breward's Coffee Shop, the latest community enterprise ran by Homefield College, is now open to dine-in customers. The coffee shop in Mountsorrel provides vital work experience for students with learning and communication disabilities, preparing them for the world of work and building transferable skills.
Established during the pandemic, Breward's opened in September 2020 for students to learn the ropes, followed by take-away customers in November 2020. Now that restrictions are lifting, students are excited to create new recipes to share with their dine-in customers.
Student Samuel G who works at Breward's as part of his work-ready study programme said:
"I love working in the coffee shop and serving customers. I'm looking forward to serving more customers now they can come in and sit down after COVID restrictions".
One of the first dine-in guests was Jane Hunt MP, who as part of a visit to Homefield College sampled the delights of a homemade flapjack and fruit tea at Breward's Coffee Shop, served by students Daniel T and Ethan C.
After refreshments, Jane led a Q&A session with students across the College over Microsoft Teams discussing topics such as road-safety, flooding and the role of members of parliament.
Speaking about the visit, Jane Hunt MP said:
"Breward's is a wonderful addition to the Mountsorrel landscape; it's warm and friendly and they serve some fantastic cakes! As well as being a great place for a hot drink and something to eat, it also provides students with learning and communication disabilities with vital work experience. It allows the students to grow their skills and confidence, preparing them for future employment. Thanks to everyone at Homefield for opening this fabulous facility."
At Breward's, students focus on good customer service and hospitality. They learn skills such as food preparation, meeting and greeting customers, using the till & money handling, functional IT skills and health & safety.
---
Henshaws student takes the lead teaching Kung-Fu!
Henshaws College are very proud of their student Liam.
At the start of the year Liam generally found participation in group activities daunting, but after building his confidence at Henshaws he has smashed through those anxiety barriers. He has been hosting Kung-Fu sessions completely independently, and has had both students and staff trying out some new moves!
Fellow student Marnie who attended a session said: "I found the exercise session very very special and fantastic today. I have had such a good time, and I feel as if we are getting back to some kind of normality in our lives now. Thank you again for letting me come along and thanks to Liam who instructed us all into doing all the exercises."
---
Aspire to Be checks in with Doncaster hotel
A specialist employability service based in Doncaster has joined forces with a leading hotel to help support more adults with communication and learning difficulties into jobs within the hospitality sector.
Aspire to Be, managed by Doncaster Deaf Trust, is working with Mercure Doncaster Danum in a bid to provide more hands on, practical experience of working in a hotel.
As part of the initiative, the hotel will be offering work experience opportunities and supporting with mock interviews, site visits, hospitality information as well as guaranteed interviews when vacancies arise for those who apply from the Aspire to Be programme.
In addition, Aspire to Be has set up a mock hotel room at their Leger Way site that will be used to work with service users to breakdown certain tasks within a job role and explain in detail the different elements involved. The room has been inspected by the general manager of Mercure Doncaster Danum to make sure it is as realistic as possible and the hotel has also donated some freebies to add the finishing touches.
Neil Keeton, employment engagement officer at Aspire to Be, said: "A vital part of what we do here at Aspire to Be is to enable our service users to learn about the world of work and ensure that anyone who's capable of working can.
"For many years our service users may have been passed over or ignored due to their disability as some organisations only see employing them as a challenge but this is such a shame because we know how adaptable, capable and valuable these individuals can be within a workplace environment, they just need to be given an opportunity.
"Linking up with employers such as Mercure Doncaster Danum makes such a difference as it gives our service users real-life practical experience of the various roles within that sector whether that be from our mock hotel room which the hotel has helped with or through work experience, volunteering or mock interviews. This not only helps develop their skills and build on what they learn with us but also allows them to grow their confidence and self esteem.
"We are so thankful the hotel team for their support as we know how much it will help our service users and increase their chances of employment. The hotel really is a beacon for us to be able to demonstrate to employers how our service users can adapt in a work environment and become an integral part of any workforce."
Andrea Hippsley, general manager of Mercure Doncaster Danum, said: "I am delighted to partner up with Aspire to Be as I firmly believe that those who have the capability of working should be given the chance to do so. I see this as an exciting opportunity, not a challenge and the team here at our hotel want to help in any way we can.
"Within the hospitality industry there are many different career opportunities consisting of catering and kitchen, housekeeping, front of house as well as maintenance and administration to name just a few so we have numerous roles to suit all individual skill sets. By working with us, Aspire to Be service users will have the opportunity in a variety of positions to showcase their skills and gain knowledge and experience which will be of great benefit to them and to us as well."
Aspire to Be works in partnership with referring agencies such as local authorities, housing associations and job centres to provide people with a holistic programme incorporating education, employment and employability sessions alongside health and wellbeing support.
Covering the whole of the Sheffield City region, the programme benefits from an experienced and dedicated team who offer service users aged 19 and over a bespoke individualised plan which gives them the tools they need to help them find and stay in employment.
Added Neil: "Aspire to Be would love to hear from any employers in any sector who may want to get involved and support this employability programme. People with disabilities are an under utilised pool of talent and we are so pleased that Mercure Doncaster Danum is on board with us and leading the way in this area."
---
ESPA College students get busy making treats
Scrummy Kitchen is a vocational enterprise run by staff and students from ESPA College.
They prepare, bake and supply cakes, scones, muffins and special treats to local cafes and restaurants in Newcastle. During the COVID-19 lockdown, they had to stop. But now they are back making things again, busy supplying sweet treats to busy cafes! And the students have been receiving lots of compliments from regular customers on their hard work.
---
Accessible recycling thanks to Occupational Therapy
WESC Foundation have an extensive in house therapy team that offers full therapy support to our students and young adults. This covers speech and language, physiotherapy, occupational therapy and music therapy from our specialist staff team.
Our Occupational Therapists focus on promoting independence through purposeful and meaningful activity. For example, they work on developing independence skills in the home, including preparing and cooking simple meals and snacks, housework and laundry. This is so important as independence promotes confidence and self-esteem, as well as self-motivation.
How Occupational Therapy helped Will
This term, college students have been learning about recycling as part of their work skills lessons. This involves collecting the recycling caddy from one area and transporting them to another to sort out. However, this task proves tricky for one of our college students, Will, who uses a powered wheelchair. Subsequently, Will finds it difficult to transport the recycling across campus in his wheelchair and relies on the support of an enabler to help him complete this task.
Will and the Occupational Therapy team were determined to develop Will's independence in his work skills lesson. After some problem solving, Will now has his own trolley that can hook onto the back of his powered wheelchair. As a result, Will is now able to independently tow the recycling caddy across campus.
By using adaptive strategies and equipment, our Occupational Therapists have enabled Will to achieve a greater level of participation and independence in his meaningful occupation of work skills.
---
Brand new Outdoor Teaching Shelter completed at QAC's Umberslade Campus
Work has recently finished on the construction of an outdoor teaching shelter at Queen Alexandra College's Umberslade Campus.
The shelter, a completely hand built wooden structure put together by the maintenance team at QAC, will allow students easy access to outdoor learning activities such as Forest School or bug hunting.
The area has an access ramp, making it wheelchair accessible, along with benches and decorative features. The pleasant sheltered area will also offer students protection from the elements.
Located in Selly Oak, Umberslade Campus is a rural idyll in an urban setting. QAC students benefit from the excellent outdoor learning opportunities and experiences that the various horticulture facilities at Umberslade Campus can provide.
share this page: